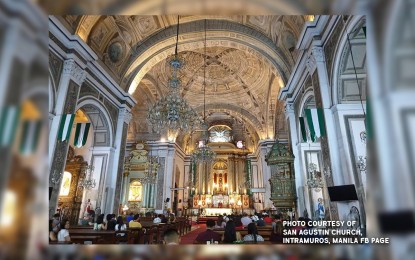 MANILA – A parish priest of San Agustin Church in Intramuros, Manila succumbed to coronavirus disease 2019 (Covid-19) on Sunday.
The Catholic Bishops' Conference of the Philippines (CBCP) news website reported that Fr. Arnold Sta. Maria Cañoza died at the age of 45 early Sunday morning.
According to the report, San Agustin Church and Convento de San Agustin Intramuros will be closed starting March 21 "due to the nature of the Catholic priest's death."
"Access to the church and convent will be restricted, and operations at the parish office will also be suspended until further notice," the parish said. "We ask for your understanding and prayers."
It said the Catholic priest had been a professed religious in the Order for 14 years.
Cañoza first professed his vows in June 2006 and made his solemn profession in February 2011, it added.
Meanwhile, the Archdiocese of Manila and the Diocese of Pasig announced on Sunday that there will be no public Masses in all parishes and chapels under them from March 22 until April 4.
In a statement, the Manila archdiocese said it will continue to livestream all their Masses especially during the Holy Week. It added schedules will be posted soon.
On the other hand, the Pasig diocese urged the faithful to wait for the guidelines to be issued soon.
On Sunday afternoon, Presidential Spokesperson Harry Roque announced that the Inter-Agency Task Force (IATF) for the Management of Emerging Infectious Diseases approved a resolution that prohibits non-essential travel to and from Metro Manila and other provinces placed anew under the general community quarantine (GCQ).
Under IATF Resolution No. 104, only essential travel is allowed to and from Metro Manila and the provinces of Bulacan, Cavite, Laguna, and Rizal during the implementation of the GCQ from March 22 to April 4. (PNA)