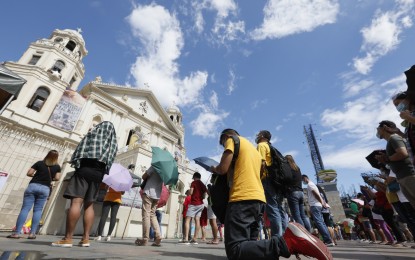 MANILA – Masses in Catholic churches in the National Capital Region (NCR) will be held virtually in response to the government's decision to put the region under strict enhanced community quarantine (ECQ) starting next week.
In separate advisories released on Friday, the dioceses of Pasig, Cubao, Novaliches, Parañaque, and Caloocan and the Archdiocese of Manila announced the suspension of public Masses in churches and chapels for almost three weeks, from Saturday until August 20.
"Starting tomorrow, July 31, 2021 (Saturday) to August 20, 2021 (Friday) there will be no public Masses in all parishes and chapels in the Diocese of Pasig," the Pasig diocese said in an advisory posted on Facebook.
The Diocese of Cubao called on the people to continue to follow the restrictions of the government, urging them to stay home and keep safe.
"The Diocese of Cubao is declaring a suspension of public worship from July 31 to August 20. Let us continue to support the preventive measures being implemented by the government to slow down the surge of the virus," Bishop Honesto Ongtioco said in a Facebook post.
Ongtioco, meanwhile, asked the parishes to hold Masses virtually.
"We will reopen our churches for public worship on August 21, if the condition improves," he added.
The dioceses of Novaliches, Caloocan, and Parañaque likewise urged the faithful to participate in Masses to be live-streamed on their social media pages.
The Manila Cathedral, which is under the Manila archdiocese, also declared to temporarily suspend the public celebration of Masses for nearly three weeks.
"Following government regulations released today prohibiting religious gatherings, the Manila Cathedral temporarily suspends public celebration of Masses from July 31 to August 20. The daily celebration of the Mass will continue to be broadcasted online through the Manila Cathedral Facebook page and YouTube channel," it said in a Facebook post.
Meanwhile, Manila Jose Cardinal Advincula issued a prayer for the protection against the Delta variant of the coronavirus disease 2019 (Covid-19).
The prayer is as follows:
Dear God, our loving Father, we ask you to extend your hand over us to protect us, especially from harm, from the threat that is brought about by Covid-19, especially by this new Delta variant.
We ask you also to continually guide and enlighten those who take care of our health, the government, our doctors, our nurses, those that are working, especially in the hospitals and all front-liners so that they may continue their work in order to safeguard the health of the community.
This we ask of you through Christ our Lord.
Amen.
On Friday, Presidential Spokesperson Harry Roque announced that Metro Manila will be under general community quarantine (GCQ) "with heightened restrictions" from July 30 to August 5 and will shift to ECQ from August 6 to 20, to arrest the further spread of the Covid-19 Delta variant.
Only virtual religious gatherings are allowed during this period.
As of Friday, the Philippines has logged 8,562 new Covid-19 cases, bringing the active case count to 61,920 out of a total of 1,580,824 confirmed cases. (PNA)