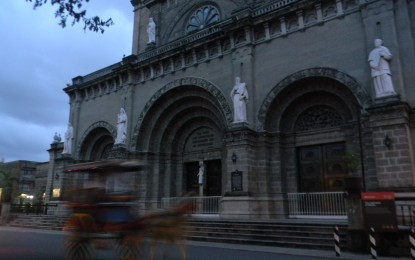 MANILA – The Archdiocese of Manila has designated 10 pilgrim churches to be the "centers of prayer, forgiveness, and charitable works" in celebration of the 500 years of the arrival of Christianity in the Philippines.
In a statement, the Roman Catholic Archdiocese of Manila said the pilgrim churches are the Manila Cathedral, Minor Basilica of the Black Nazarene/Quiapo Church, Archdiocesan Shrine of Nuestra Señora de Guia, Archdiocesan Shrine of Sto. Niño de Tondo, and San Pablo Apostol Parish, all located in the City of Manila.
Two churches are in Makati City — the National Shrine of Our Lady of Guadalupe and Sts. Peter and Paul Parish.
The Santa Clara de Montefalco Parish in Pasay City, San Felipe Neri Parish in Mandaluyong City and St. John the Baptist Parish in San Juan City are also declared as pilgrim churches.
Rev. Fr. Reginald Malicdem, Manila Cathedral rector, said the basilica was included among pilgrim churches because of its historical significance.
"Manila is the first diocese in the Philippines and the Manila Cathedral is the first cathedral in the country. That is why Pope Francis called the Manila Cathedral as the mother church of the Philippines," he said in a statement.
Earlier, Catholic Bishops' Conference of the Philippines president Archbishop Romulo Valles said jubilee churches would also be designated in other dioceses and archdioceses in the country.
Bishop Broderick Pabillo, Apostolic Administrator of Manila, will open the jubilee door of the Manila Cathedral on Easter Sunday, April 4.
He will also open the jubilee doors of the other pilgrim churches during Easter Week.
The Jubilee Year will open on April 4, 2021, and will close on April 18, 2022, with the Second National Mission Congress in Cebu.
The celebration for the 500 years of Christianity in the Philippines is set to start on April 17, 2021, to commemorate the first Easter Sunday mass in the country held in Limasawa Island in Southern Leyte. (PNA)